As Elle Purrier Heads to Worlds, the Hay is in the Barn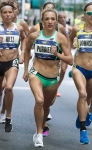 September 10, 2019
"She's not scared of doing hard work. There's no drama with her, you know? She's like, 'What are we doing today?' You tell her what we're doing. And she just does it."
By Sarah Lorge Butler, Runner's World
In the past three months, Elinor Purrier has set PRs in the 800, 1500, Mile and 5000 meters, she has pushed Jenny Simpson to the limit at the recent Fifth Avenue Mile in New York City, and she has made Team USA heading for the World Championships in Doha later this month.
But Purrier, 24, fears she's getting a little pampered.
Seems like an odd concern. But when she compares her routine to her former life, maybe she has a point.
Purrier, who goes by Elle and pronounces it "Ellie," grew up in Montgomery, Vermont, a few miles from the Canadian border, on a dairy farm that's been in her family since 1904. Every morning throughout high school, she would rise at 5:00am to milk the cows and do other chores—throwing hay bales, taking care of pigs, shoveling out the barn.
That's in her past, at least for now. Purrier runs for New Balance in Boston, about four hours from her family's farm. When she goes home to Vermont to visit, she sleeps in later.
"I feel like I've grown a little soft since I'm not home getting up for chores," she said in an interview with Runner's World. "Even when I do go home, I feel like they expect me to help. I'm like, 'No, it's really important for me to sleep. That's my job now.'"
Continue reading at: runnersworld.com
CREDIT: PhotoRun.net