Angelina Jolie's 'Unbroken' hero was her neighbor all along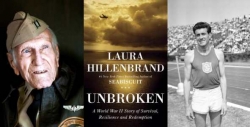 February 25, 2014
Zamperini's inspirational story offers a bright light of hope for an often-troubled time.
Gael Fashingbauer Cooper, TODAY.com
Angelina Jolie was looking far and wide for dramatic inspiration, and all the time it was right outside her own front door.
Jolie is directing "Unbroken," the gripping survival tale depicting the life of World War II hero and Olympic distance runner Louis Zamperini. It turns out that while she was pondering her next project, Zamperini, now 97, was living right in Jolie's Los Angeles neighborhood. From his patio, he could actually see Jolie's home.
"I imagine that for the last 10-something years, (Zamperini has) been sitting there having a coffee in the morning and wondering who's going to make this movie," Jolie told Tom Brokaw Tuesday on TODAY. "And I've been sitting in my room laying there thinking, 'What am I supposed to be doing with my life? I wanna do something important ... I need some help. I need some guidance. Where is it?' And it was right outside my window."
Jolie and Zamperini are now dear friends, with Zamperini, a former high school Mile record holder, calling Jolie "honey" and "my gal" during the TODAY interview, and Jolie responding, "I love you."
Continue reading at: today.com