America's Next Great Running Hope?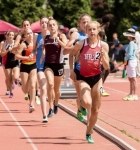 June 09, 2018
Why do so many gifted teenage female distance runners fizzle out by their early 20s, unable to capture the speed of their youth?
By Matthew Futterman, New York Times
It's not clear exactly when a high school sophomore named Katelyn Tuohy became the next great phenom in American distance running.
Her coach at North Rockland High School, in Thiells, N.Y., about 30 miles northwest of New York City, said he knew Tuohy would eventually inspire the highest of hopes when she was in seventh grade. At the sound of the gun in her first race, a 1500 meter competition for freshmen and sophomores, she sprinted to the lead, sparking snickers about how she needed to learn pacing. She finished in 4 minutes, 54 seconds and won by 26 seconds.
Others say it was last October, in a cross country race at Van Cortlandt Park in the Bronx. Virtually every top scholastic runner in the Northeast has competed at Van Cortlandt in the past 45 years. Tuohy ran the woodsy, 2.5-mile course in 13:21.8, breaking the course record by 32 seconds.
Maybe it was in December when she won and set the course record at the cross country team national championships in Oregon. Maybe it was at the meet in Virginia in January when she broke a national record for high school girls in the 5000 by 18 seconds.
"She might be the best high school runner ever already," said Jim Mitchell, a Bronxville High School coach who has guided dozens of elite female distance runners during his 40-year career, including, briefly, the last great phenom, Mary Cain.
Continue reading at: nytimes.com