American distance record-holder Alan Webb battles back from injuries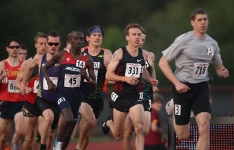 April 30, 2012
By Jeff Faraudo, Bay Area News Group
PALO ALTO - His career stalled by injuries most of the past four years, Alan Webb hopes to become the runner he once was. But he doesn't expect to get there by looking back.
"I almost try not to compare myself to what I did in the past," the 29-year-old American record-holder in the Mile said on the eve of Sunday's Payton Jordan Invitational at Stanford. "It's always the here and now. You can't sort of live on those successes.
"I know that it's there. I know I can still do it. But I kind of pretend that I haven't done it yet so I'll go out there hungry to do more."
Webb, who ran a season-best time but finished 11th in the 1,500 meters Sunday, has had a career marked by extreme highs but also disappointments.
He became the hottest name in U.S. track and field in 2001 when he shattered Jim Ryun's 36-year-old high school record for the Mile.
"That was a lifetime ago," he said.
Three years later, still just 21, Webb made the U.S. Olympic team. In 2007, he broke Steve Scott's 25-year-old American record in the Mile.
Since then, little has gone right. He failed to earn a return trip to the Olympics in 2008, then developed an Achilles tendon injury that finally was diagnosed and surgically repaired early in 2010. Following that, he suffered a stress fracture in his foot and a stress reaction in his tibia, and twice moved his training base.
Now back in Virginia, where he attended high school, Webb is trying to be patient while acknowledging the urgent timetable of an Olympic year.
Continue reading at www.insidebayarea.com