All Three Americans Qualify for World 1500-Meter Final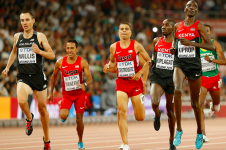 August 28, 2015
For the first time since 2009, Team USA has 3 men advance to an IAAF World Championship final in the 1500m; Final on Sunday, August 30 at 7:45pm local time.
By Peter Gambaccini, Runner's World
Americans Matthew Centrowitz, Leo Manzano, and Robby Andrews qualified in Friday's semi-finals for the 1500-meter final at the IAAF World Championships in Beijing.
All of the Americans' chief foreign competition, including defending champion Asbel Kiprop of Kenya, 2012 Olympic champion Taoufik Makhloufi of Algeria, and Olympic medalists Nick Willis of New Zealand and Abdalaati Iguider of Morocco, also advanced to Sunday's final.
There were two heats, with the first five finishers from each, plus the next two fastest finishers, qualifying for the final. In the first heat, Centrowitz was trapped in the middle of the pack, but then found room to pass one runner on the inside and another just before the start of the last lap. "I call that 'man leaving lane one open for me,'" he said. That good fortune allowed him to move into fourth, a position he held to the finish, which he reached in 3:43.97.
Continue reading at: www.runnersworld.com