After short break, Craig Engels reinvigorated for 2024 Olympic push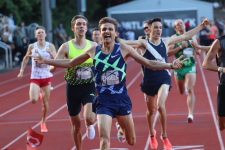 January 17, 2022
"I still love (running). It's a really cool job, Obviously one day I'll be done running. But not yet."
From Winston-Salem Journal
For Craig Engels, 2021 was a year filled with miles and milestones.
The Pfafftown runner recently signed a new long-term contract with Nike, competed in the U.S. Olympic Trials and earned his MBA.
"It's been an awesome and busy year," the 2012 Reagan High School graduate said. "Obviously, I wanted to make the Olympics, but I've been having a great time since then."
Engels — the defending U.S. champion in the 1500 meters — finished fourth at the Olympic Trials in June, narrowly missing a spot in the Tokyo Olympics by half a second.
After the heartbreaking race, Engels said he seriously considered retiring from the sport, having spent years vying for the Olympics.
Previously, Engels competed in the 2016 Olympic Trials, fighting for a spot in Rio de Janeiro as a student at the University of Mississippi. He finished fourth in the 800 meter final, and fifth in the 1500.
"I love racing and running, but it can be a bit stressful to be so focused on one thing," Engels, 27, said. "After the Trials this year, I was a little — or maybe more than a little — down on running."
Engels entered the Olympic Trials in June with what was then the 17th-fastest time in the world for the 1500 — a blazing 3 minutes and 33.64 seconds.
With his Nike contract set to expire in December, Engels said he spent the latter half of the year figuring out his next steps after four years as a professional runner.
But while working on his MBA during the fall, Engels said he began to fall back in love with running as a volunteer assistant coach at his alma mater.
"Being around all these 20-somethings who love the sport, I realized I'd lost a bit of my fire," Engels said. "After being back at Ole Miss, I felt re-invigorated."
Around Christmas, Engels signed the long-term contract with Nike and said he has his sights tentatively set on the 2024 Olympics in Paris.
In the meantime, Engels — who is renowned for his mustache and mullet combo — has races lined up for the indoor track & field season, including the Texas A&M Ted Nelson Indoor Invitational, the Millrose Games' iconic Wanamaker Mile in New York City and the 2022 USA Track & Field Indoor Championships in Spokane, Wash.
He hopes to qualify for the World Indoor Championships, which will be held in Serbia in March, and the World Outdoor Championships in Eugene, Ore., in July, he said.
Continue reading at: journalnow.com
Craig Engels meeting, greeting and signing with his fans at the 2021 Sir Walter Miler. CREDIT: Eddie Wooten, Winston-Salem Journal