Ace Bernard Lagat: On running and the Mile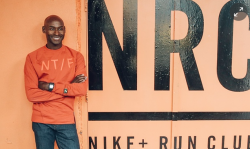 July 25, 2015
Multiple record holder and 13-time medalist Bernard Lagat on how to run the Mile, enjoying a glass of post-race wine and why the 100m doesn't do it for him
From The Guardian
So Bernard, what have you been up to lately? I've been training hard since I came back from the U.S. trials. I've had one race, in Lucerne, last Tuesday which went really well - I ran 7m 42sec [for 3000m], which was my season's best, and also it was a World Master's Record for the over 40s [Lagat turned 40 last December]. Then I kept training, because I know that there are so many other races to come.
What are your plans for the future? Because the season is still kind of new, I want to run faster in the 5000m. Hopefully, in September I can run under 13m 10sec. I've already mapped out the race I'm going to be doing that, in Berlin on 6 September. Then, of course, we have the World Indoor Championships coming up in Portland, Oregon, so I'm looking forward to that as well. That's a step, maybe, towards Rio. But first I have to qualify for the World Indoors.
What are your top running tips for anyone running the Mile? If you handle it well, you are going to run great. Don't think too much about the race itself. The third of the four laps is the one that makes everyone tired. You are in the middle, you still have two to go. Try not to worry about it, but try to run faster. That's the lap that will get you a fast time. In the last lap, adrenaline kicks in – that one takes care of itself. But the third, that's the one you have to attack. Run faster, don't think about it. If your mind says you are tired already – it's not a good idea. Run tough. Everything will fall into place on that last lap. Just go all out!
Continue reading at: theguardian.com