A Man Conquers Himself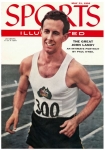 May 21, 1956
Gentle John Landy, after one of history's fastest Miles, could feel only sadness and defeat. Here is the story of an amazing, dedicated athlete—and an amazing human being: "I'd rather lose a 3:58 Mile than win one in 4:10."
By Paul O'Neil, Sports Illustrated
The townspeople of Fresno, California, Raisin Capital of the World and Pearl of the San Joaquin Valley, share one obsession: they are track & field fans. Kids in Fresno can recite the latest clockings in the 100 and 220 yard dash the way kids in Brooklyn recite baseball averages, and their elders—waitresses, ranchers, truck drivers and bankers—recall the feats of the great men of running with a pride and awe which is probably unique in the U.S. Last Saturday evening 16,000 of them—as many as could possibly jam past the gates of Fresno State College's little Ratcliffe Stadium and into its seats, its infield and the grassy areas around the ends of its famed, sand-colored clay track—were present there and garrulous with anticipation.
At 7:14 o'clock, give or take a few seconds, every man, woman and child of them were on their feet and emitting a pleading roar which must have been heard on the distant Sierras, for around the far turn at Fresno came Australia's John Landy, one of the loveliest runners ever born, floating like blown tumbleweed toward a new world record in the Mile run. The air was chilly, although the declining sunlight still slanted brightly on the green grass and the motley of 1,400 athletes—now spectators almost to a man—who had gathered for the 30th running of the West Coast Relays. A plaguing wind was blowing down the backstretch in gusts up to seven miles an hour. But Landy, whose warm smile and shock of curly brown hair had become familiar to millions of newspaper readers and televiewers during the two weeks of his U.S. tour, had built the foundations of a historic race.
He had been boxed momentarily on the first turn between ex-Occidental College Miler Jim Terrill and former Yaleman Mike Stanley. But he had slid clear at 200 yards, with Villanova's young Dublin Irishman, Ron Delany, at his heels, and from then on, running like some tanned Inca courier, he had steadily left the field behind. He had hit the quarter miles with almost absolute precision—59.9, 2:00.1, 3:00.8. Then, fiercely bent on penance for his one-yard defeat at the hands of his fellow Australian, Jim Bailey, seven days before, he fled into the final lap with 57 seconds to go to break his own world record.
Continue reading at: www.si.com/vault