A Falcon and a Duck Made the Pre Classic Fly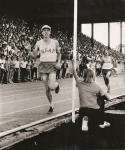 May 25, 2017
Without a doubt, though, the big, highly anticipated Mile race - Wottle vs. Pre - established this meet as the USA's must-see outdoor invitational.
By Jesse Squire, Citius Mag
The Prefontaine Classic might not exist without Bowling Green. I am not making this up.
I ran at Bowling Green State University, my little college out there on the edge of the prairie. It was 1990, I think, and we were piled into BGSU vans on the way to an off-campus run with head coach Sid Sink driving. The athlete in the front seat next to him was reading something about Steve Prefontaine, either a magazine article or Pre!, Tom Jordan's biography of the man. (This was back before the internet opened up everyone's ability to look up virtually anything, and figures from the past were not well known to 20-year-old guys.) The athlete was amazed at how good Prefontaine was, and asked Sink if he'd ever run against Pre. Sid glanced over and matter-of-factly said "that's me right there", one step ahead of Pre.
Sid was a contemporary of Prefontaine and raced against him on many occasions. Sid is a forgotten man now since his peak came at the wrong time, but at his peak he was very good: a four-time NCAA champion who broke the steeplechase American record and won a Pan American Games silver medal in 1971. In 1972 he had just completed his collegiate eligibility at BG and a sciatica flareup led to a terrible 9th place Olympic Trials finish in his preferred event, the steeple, but he gamely came back in the 5000 and very nearly made the team.
It was only at the end of Sid's career that teammate Dave Wottle eclipsed his accomplishments. Two years his junior, Wottle won three NCAA titles in 1972, then followed it up with a surprise World Record at the Olympic Trials and a shocking come-from-behind gold medal victory in Munich. Wottle and his golf cap became legendary.
Continue reading at: citiusmag.com