A Day of Mile Magic across America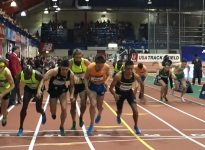 February 17, 2015
Milepalooza 2015 showcased the appeal and excitement of the storied distance on Valentine's Day
By Ryan Lamppa, Bring Back the Mile
This past Saturday, February 14, 2015 was, in totality, one of the greatest days in Mile history, particularly indoors. Consider the following in a day of Mile magic and "love" across America on Valentine's Day.
On the day, there were staggering 36 sub-4 minute Miles clocked, the most ever in one day; the previous record was 29 on February 11, 2012, and overall, 25 Americans, 3 Canadians, 3 Britons, 2 Kenyans, 2 New Zealanders and 1 Norwegian broke the coveted sub-4 mark in six races at 4 different venues and nine Americans also recorded their first sub-4s.
► BU David Hemery Valentine Invitational, Boston, MA = 12 sub-4s, two heats (second highest indoors at the same day, same meet); also at the same meet, 1992 U.S. Olympian John Trautmann, 46, set the indoor and absolute 45-49 age group Mile world record with his 4:12.33, and four Georgetown athletes ran sub-4 in the same heat.
► NYRR Millrose Games Wanamaker Mile, New York, NY = 10 (second most indoors in the same race) including world leading 3:51.35 by Matthew Centrowitz
► Iowa State Classic, Ames, IA = 8, two heats
► Husky Classic, Seattle, WA = 6 led by Montana State Cristian Soratos' NCAA leading and personal record 3:55.27.
Beyond the incredible sub-4 blitz displayed above, Milepalooza 2015 excitement continued at the 108th Millrose Games Wanamaker Miles in New York City where:
► Women's winner Shannon Rowbury gamely went for the long-standing U.S. indoor record (4:20.5), but slowed in the final lap to still produce the second fastest Mile year-to-date, 4:24.32 (she has the #1 time too, 4:22.66).
► Five women also broke 4:30: Rowbury, Treniere Moser (4:27.49), Stephanie Charnigo (4:28.02), Jordan Hasay (4:28.27) and Morgan Uceny (4:28.39); and 8 of 10 women set indoor personal records.
► Men's runner-up Nick Willis broke his week-old New Zealand indoor record with a 3:51.46, nearly catching Matthew Centrowitz at the line.
► The evergreen Bernard Lagat, 40, shattered the Masters world record with his 3:54.91, the fastest Mile ever run by an athlete 40 & older, indoors or outdoors (an absolute Masters WR), and the 8-time Wanamaker Mile champion also finished 4th overall against a world class field.
► A near record 10 men went sub-4 in the same indoor race (record is 11 at the Boston Indoor Games 2006) and 6 of those 10 men set indoor PRs.
► To cap the night of Mile magic in Gotham, John "Johnny" Gregorek, Jr., who finished 10th in 3:57.47, joined his father in the sub-4 club, and moreover, they became the 8th father / son combo to enter an even more rarefied, unique sub-4 group.
Put simply, the Day of Mile Magic across America left BBTM breathless and inspired by the Mile's renaissance, and the best is yet to come for the Mile!