8 Things You May Not Know About Louis Zamperini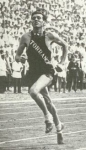 December 18, 2014
High school Mile record holder and two-time NCAA Mile champion considered candidate to run first sub-4 minute Mile
By Evan Andrews, History.com
On December 25, Universal Pictures' new film "Unbroken" is set to debut nationwide. Based upon the bestselling book by Laura Hillenbrand, the film recounts the amazing odyssey of Louis Zamperini, an Olympic distance runner and World War II bombardier who survived a horrific plane crash, weeks adrift in shark infested waters and some 28 months of starvation and torture in Japanese prison camps. With the film about to hit theaters, learn eight fascinating facts about one of the most celebrated American servicemen of World War II.
1) He was a juvenile delinquent.
Born in January 1917 to Italian immigrant parents, Zamperini spent his youth as one of Torrance, California's most notorious troublemakers. A smoker at age 5 and a drinker by 8, he built an adolescent criminal empire based around stealing anything that wasn't nailed down from neighbors and local businesses. Zamperini blackened the eyes of any kids that dared challenge him, deflated a teacher's car tires after she disciplined him and once even lobbed tomatoes at a cop. Family members were convinced he was headed for prison or the streets, but he finally abandoned his life of petty crime in high school, when a group of girls charmed him into joining the school's track team. Encouraged by his older brother, Pete, he soon became one of southern California's top athletes, and achieved a national high school record after blazing through a Mile run in only 4 minutes, 21 seconds.
2) He met Adolf Hitler at the 1936 Berlin Olympics.
After graduating high school, Zamperini set his sights on competing in the 1936 Olympic Games. Switching from his preferred 1500 meters to the 5000 meters, the "Torrance Tornado" made a good showing at the U.S. Olympic Trials and became the youngest distance runner to ever make the Olympic team. At age 19 he was still too inexperienced to mount a challenge for gold, but during a Berlin Olympiad held in the shadow of the burgeoning Nazi empire, he finished eighth in his race and won over the crowd by laying down one of the fastest final laps in the history of the event. Among the impressed spectators was none other than Adolf Hitler, who shook Zamperini's hand from his box and said, "Ah, you're the boy with the fast finish." Despite winning congratulations from the German "Fuhrer," Zamperini wasn't above getting into trouble during the Olympics. Before leaving Berlin, he was nearly shot while trying to swipe a Nazi flag from the Reich Chancellery as a souvenir.
3) He was a leading candidate to break the 4-minute barrier in the Mile.
Following his strong showing at the 1936 Olympics, Zamperini shattered collegiate records at the University of Southern California and became one its most celebrated student athletes. At the time, a sub-4 minute Mile was considered a near-impossible feat, but as Zamperini's profile grew, many began to whisper that he might be the man to pull it off. Former world record holder Glenn Cunningham tapped him to be "the next Mile champion" in 1938, and Zamperini responded by going undefeated during his 1939 track season. He planned on gunning for 1500 meter gold at the 1940 Tokyo Olympics, but the contest was called off after the start of World War II. With his Olympic dream temporarily dashed, Zamperini enlisted in the Army Air Corps in 1941.
4) He cheated death several times while serving as a B-24 bombardier.
During World War II, Zamperini served as a B-24 Liberator bombardier in the Army Air Corps' 372nd Bomb Squadron. From his perch in the nose of a craft nicknamed "Super Man," he flew several missions including a famous December 1942 air raid on Wake Island, after which his plane nearly ran out of fuel before limping back to Midway Atoll. During a subsequent bombing run over the tiny island of Nauru, Japanese Zero fighter planes attacked Zamperini's B-24, seriously wounding several crewmen and killing one. Leaking hydraulic fluid, the shredded B-24 only narrowly avoided disaster during an emergency landing at the island of Funafuti. Zamperini and his crewmates later learned that their plane had been riddled with nearly 600 holes from enemy gunfire and shrapnel.
Continue reading at: history.com