4 Fall Military Races to Test Your Running Mettle in DC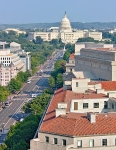 September 30, 2015
The Navy Mile on Pennsylvania Avenue presented by USAA is a community celebration, kicking off the United States Navy's 240th birthday week. The inaugural race includes a prize purse of more than $14,000 including $12,500 for elite Milers.
By Jason Devaney, RootsRated
As the Nation's capitol, Washington, DC and the surrounding area, is home to a large contingent of active military members, veterans and their families. Running is an integral aspect of training, making racing a popular activity. And military focused running events give civilians the opportunity to sweat it out side-by-side with members of the armed forces.
Here's a rundown of some local military-themed running races happening this fall. Get ready to work hard and feel patriotic pride as you see if you have what it takes to persevere at one of these classic events.
1. The Navy Mile on Pennsylvania Avenue
The Mile used to be one of America's favorite race distances, thanks in large part to Jim Ryun's famous world-record performances of 3:51.30 and 3:51.10 in the 1960s. But the race distance slowly lost its luster. In the 1980s, high school federations, due to new metric 400 meter tracks, were switching to the 1600 meters—nine meters short of an actual Mile.
There's been a resurgence in Mile races across the country in recent years, with organizations like Bring Back the Mile leading the charge. The Navy Mile is another step in the Mile's progression back near the top of America's racing scene.
The course is simple: Starting in front of the Navy Memorial, runners head down Pennsylvania Avenue, turn in front of the Capitol Building, and head back to where they started.
"To many, the Mile has an almost mystical aura to it," says Charles Hautau, President, National Capital Council of the Navy League. "Roger Bannister's successful effort to eclipse the 4 minute barrier, Jim Ryun's feats as a high school student and Olympian; even local favorites Alan Webb and Matthew Centrowitz are all notable. We hope to bring it back at the local level!"
Hautau adds that the Navy Mile will serve as a kickoff to the U.S. Navy's 240th birthday celebration, and there will be plenty of activities to do other than run.
Continue reading at: rootsrated.com