2013: The Four Minute Mile is Under Attack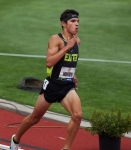 January 02, 2013
By Scott Bush, RunnerSpace
We're counting down five of our favorite topics to follow in the distance running world in 2013. The first is the push to break the four minute Mile from a trio of prep athletes. It's been nearly 50 years since there's been as much top-end depth in the event and we can't wait to see how many can push the magical mark.
2013 is here and there is much to be excited about as a distance running fan. The past few years have shown a rise in performance for U.S. distance runners across the board, as the professional, collegiate and prep levels have each showcased faster times and a deeper talent pool.
One of the most exciting events to follow in 2013 is the high school boys Mile. Since Alan Webb broke through with his sub-4 effort back in 2001, the four-minute barrier has seemed more vulnerable. While it took another 10 years for another prep to break it, when Lukas Verzbicas ran 3:59.71 in 2011, this year seems poised to perhaps become the first year in which multiple athletes break the mark.
Continue reading at: runnerspace.com