1992 Olympian John Trautman Returns to the Mile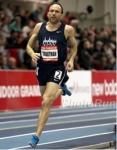 February 12, 2015
Georgetown grad, who lost 60 pounds, will take a shot at the 45–49 indoor Mile world record on Saturday in Boston.
By Alison Wade, Runners.World.com
John Trautmann, 46, will attempt to break Brad Barton's age 45–49 indoor Mile world record of 4:16.83 on Saturday at Boston University's Valentine Invitational. The record is looking like a realistic possibility after last weekend, when Trautmann set a meet record of 4:18.72 and won the Masters Mile by more than four seconds at the New Balance Indoor Grand Prix.
Six years ago and 62 pounds heavier than he is now, Trautmann would not have predicted that he'd be running competitively again, let alone chasing records, even though he was once one of the best runners in the country.
Trautmann doesn't remember the exact details of how his comeback began, but it was probably the summer of 2009 when he made a trip from his home in Manhattan to Rye, New York, to visit his old college coach, Frank Gagliano, who had recently moved to the area.
"I went up there to hang out," Trautmann says. "I had a pair of running shoes on and he actually had me out there doing some 90-second quarters—all 205, 210 pounds of me. Ninety-second quarters were tough. I was huffing and puffing," recalls Trautmann.
Continue reading at: www.runnersworld.com