U.S. Indoor Mile Champion Colleen Quigley Powers Up with Homemade Meals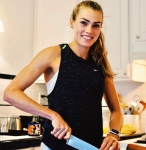 March 13, 2019
When she's not running, the Rio Olympian loves spending time in her kitchen.
By Hailey Middlebrook, Runner's World
Though we're barely three months into 2019, Colleen Quigley, a 2016 Olympian in the 3000 meter steeplechase, is already hitting her stride. Earlier in February, the 26-year-old Bowerman Track Club member finished runner-up in the Wanamaker Mile at the Millrose Games, running a blazing fast personal best track time of 4:22.86. Then two weeks later, she returned to the Big Apple for the USA Indoor Championships, where she edged out her teammate, Shelby Houlihan, to win the Mile—collecting her first national title as a pro—in 4:29.47.
Having now wrapped up her indoor season and settled back in Portland, Oregon, Quigley is focusing on building up her base for the outdoor track season ahead. On a typical day, she might run 15 miles with her fellow Bowerman teammates, lift weights, do rehab exercises and then swim a Mile in the afternoon. All that training takes some serious energy, so to power though it all, Quigley needs several satisfying meals and snacks throughout the day. Luckily, the runner enjoys time in the kitchen almost as much as time on the track.
"I love food—so much that I majored in dietetics at Florida State University," Quigley tells Runner's World. "After my afternoon run, I come home, shower, then go to my kitchen for 30 minutes or an hour cooking up a feast. I like to listen to an audiobook or podcast while I cook, preferably with a glass of wine when I'm not in serious training mode."
With dishes like scrambled eggs loaded with veggies and her dad's signature fettuccine tossed with a creamy yogurt on the menu, Quigley's diet features plenty of carbs, protein, fats and produce. Here, the track star describes what she typically eats for breakfast, lunch, dinner and pre- and post-workout snacks to fuel her training.
Loaded-Up Oats to Start
For breakfast I almost always have oatmeal. I make mine with old fashioned or quick oats and water or unsweetened vanilla almond milk. I play around with my toppings, creating some combo of the following: chocolate protein powder, walnuts, raisins, almonds, cashews, sunflower seeds, pumpkin seeds, chia seeds, almond butter and collagen peptides, plus a pinch of salt and some cinnamon.
Sometimes I mix this all up in a mason jar the night before, put it in the fridge, then eat it cold in the morning. Along with the oatmeal, I always have a cup of coffee with a dash of creamer and a glass of water. I eat the same thing whether I'm going on a regular run, doing a hard workout or racing. I know it works for me, so I just stick to that.
Continue reading at: runnersworld.com