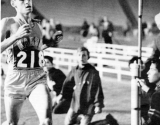 June 12, 1966
"I'd like to see the world record come back to the U.S., but you know everything has to be just right and that doesn't happen too often."
By Gwilym S. Brown, Sports Illustrated
Setting up world record attempts in the Mile run is like handling butterflies. The slightest miscalculation, one...
Read More
comments