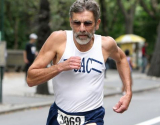 March 20, 2021
Key workouts and training strategies that helped Nick Willis run a sub-4 Mile 19 years in a row, Steve Spence sub-5 for 43 years and Harry Nolan sub-6 for 57 years.
By Amby Burfoot, PodiumRunner.com
There are fast Milers who break records, win gold medals and collect big prize money. Then...
Read More
comments