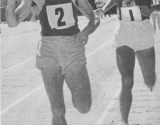 May 05, 1956
Said world record holder John Landy, the startled loser: "You ran a 3:58." Jim Bailey glared at him with unsteady indignation and shouted, "Bullswool."
By Paul O'Neil, Sports Illustrated
Saturday, May 5. A day for the dramatic, the spectacular; a day for magical and magnificent events. The...
Read More
comments