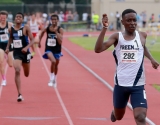 May 12, 2017
"Being the 10th high schooler to ever break (4 minutes) is definitely a huge thing. I really hope that I'll be able to be that 10th runner."
By Wayne Epps Jr., Richmond Times-Dispatch
With his standout career at Douglas Freeman approaching the homestretch, senior runner Waleed Suliman is...
Read More
comments