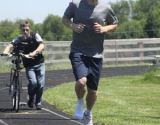 May 30, 2014
Peter Nestler shatters Guinness World Record for fastest Mile while hopping on one foot.
By David Sickels, Eastern Medina Post editor
Maybe you're involved in a high-stress hopscotch match. Maybe "Simon" made his demands and you followed them with pride. Maybe you stepped in goo. But it's...
Read More
comments