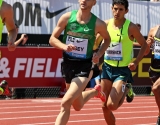 August 31, 2014
I think I have a good combination of speed and endurance and that helps with the Mile. It is a very difficult event. I will say that. It's never easy.
By Scott Mansch, Great Falls Tribune
EDITOR'S NOTE: There have been many track and field standouts in Montana history, and Patrick Casey is...
Read More
comments