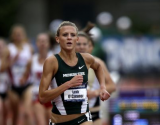 December 29, 2015
The NCAA Indoor Mile record holder and champion finished her time at Michigan State with 10 career conference championships, the most in school history.
Joseph Hayes, Times Herald
There were many challenges and obstacles, but Leah O'Connor overcame them all.
And when she looks back at the...
Read More
comments