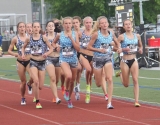 June 05, 2017
"I am so excited and happy. That time, I knew I could get it, but I wasn't sure if it would be this year."
By Rachel Roberts, Idaho Statesman
In an invitation-only race featuring many of the nation's top high school Mile runners, Mountain View High freshman Lexy Halladay came away a winner.
...
Read More
comments