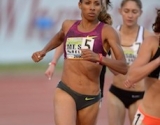 June 16, 2014
Where her foster family had once struggled to buy Wallace running shoes, she is now establishing a stellar reputation in the running world.
By Joanna Douglas, Yahoo! Beauty
Lea Wallace's Olympic training started on the playground. "If I played tag, I knew I could freeze everyone in three...
Read More
comments