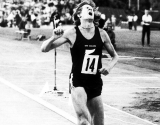 August 12, 2020
The Mile "is a cherished distance. When I lined up for a Mile race, I knew I was in for a hell of a race. It is a shame it is not run often more."
By Jeff Benjamin, RunBlogRun.com
On Tuesday evening, August 12, 1975, John Walker of New Zealand broke the 3:50 Mile barrier, clocking a world...
Read More
comments