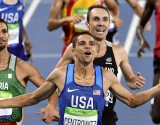 October 30, 2016
"He executed his strategy perfectly... once that fire bell rang he still had the finishing speed off of that slow pace to hold off everyone to win!"
By Jeff Benjamin, RunBlogRun.com
28 years ago, Jeff Atkinson decided to go for it. With 600 meters to go, the former Stanford runner, under the...
Read More
comments