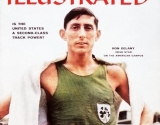 March 16, 1959
"These compliments are very good for a runner. It is what we run for. You know?"
By Tex Maule, Sports Illustrated
Coming into the last turn of Madison Square Garden's 11-lap track, the skinny blond runner had the pole. At his right shoulder and a step behind, Ron Delany matched Istvan...
Read More
comments