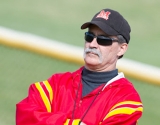 February 14, 2018
Growing up in Western PA, all my buddies wanted to be Terry Bradshaw (Pittsburgh Steelers QB). I wanted to be Marty Liquori!
By Bring Back the Mile
Our winner of the $500 for 500th U.S. Sub-4 Mile presented by Running Warehouse fan contest was Coach Greg Bixel of Pennsylvania. His guess of...
Read More
comments