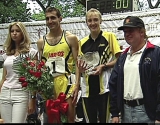 October 04, 2018
Two years into his six-year agreement to sponsor the Fifth Avenue Mile, Trump backed out.
By Liam Boylan-Pett, LopeMagazine.com
For Jake LaSala, mostly everything about the Fifth Avenue Mile in 1997 was business as usual. As the start-line coordinator for many of the New York Road Runners...
Read More
comments