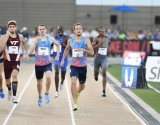 September 01, 2017
When I finally learned what my time was one of my (VT) teammates started to hug me. It was an incredible moment.
By Jean DePlacido, The Salem News
Drew Piazza keeps getting faster and faster. The Virginia Tech senior from Danvers has had an incredible summer including running a sub-4 minute...
Read More
comments