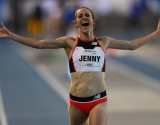 May 04, 2018
I'm over 30 and I think that I'm still going to get better. I want to run a PR in the 3000 meters. I would love to PR in the 1500 meters again.
By Chris Chavez, Sports Illustrated
Over the weekend, Jenny Simpson added another accolade to her decorated career by shattering the American record...
Read More
comments