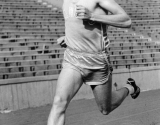 September 02, 2018
First Kansan to record a sub-4 minute Mile looks back on his running achievements: "I thought: well, if I can stay up with them I just might do it."
By Russell Gagnon, Blade Staff Writer
In the early 1960s, a farm boy from North Central Kansas was one of the fastest men in the world.
Born...
Read More
comments