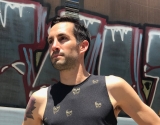 May 28, 2018
Famiglietti's attempt to run within four seconds of his Mile PR... feels like act of defiance­.
By Martin Fritz Huber, Outside Magazine
I used to think that turning 40 was something that only happened to other people. Now that I'm in my mid-30s, I'm starting to steel myself for the...
Read More
comments