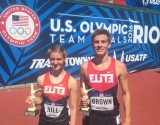 July 03, 2016
"I didn't know what I was going to do, but it was just like my dad says, 'it's the icing on the cake,' something extra after the season."
Lindsay Rossmiller, for the Missoulian
EUGENE, Ore. -- Kalispell Glacier's Annie Hill is ready for some ice cream and a two-week break.
Hill capped off a...
Read More
comments