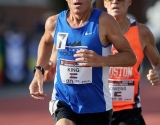 September 12, 2020
Boulder, Colorado resident mastered his injury woes: "You have to train really hard, but you don't have to run a ton of miles each week."
By Sarah Lorge Butler, Runner's World
Dan King never knew he was a Miler, but he found a silver lining during the coronavirus pandemic. With most races...
Read More
comments