Zienasellassie becomes U.S. citizen, celebrates with fast Mile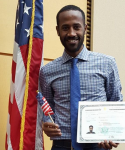 February 06, 2016
Northern Arizona junior clocks Mile at high altitude that time converts to 3:56.98, #2 indoor NCAA time this year.
By David Woods, Indy Star
No matter what he goes on to achieve in running, Futsum Zienasellassie will never have another weekend like the last one.
The North Central High School graduate became a U.S. citizen Friday. The next day, he ran a Mile that ranks #2 in the NCAA indoors this year.
Zienasellassie, 23, is a junior at Northern Arizona. He emigrated from the east African country of Eritrea in February 2007 but didn't begin running seriously until after he arrived in Indianapolis. He went on to be a national champion in cross country and won seven state titles, four in the 3200 meters and three in cross country.
Continue readin at: www.indystar.com