WVU's Next Great Miler?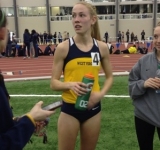 February 21, 2013
By John Antonik for WVUsports.com

Sean Cleary was out in Eugene, Ore., for last summer's U.S. Olympic Trials getting a little exercise on a walking trail near Hayward Field when he noticed a group of runners with perfect form jogging past him.
One of them looked very familiar. He looked again and realized that it was Kelly Williams. Kelly had just completed her first season in the Mountaineer program for him as a redshirt freshman middle distance runner. What was Kelly Williams doing out in Eugene for the U.S. Olympic Trials, wondered Cleary?
He saw her at the stadium later that day and discovered that she was out there babysitting for her doctor, also her club coach in high school who was there competing at the Trials.
"I sat her down in the stands and I asked her if she wanted to run cross country and she jumped at it and said yes. I asked her again, 'Do you really, really want to run cross country?'" Cleary said. "I don't think she understood what I meant at that second, but out of it came a big-time dedication from her to become a distance runner. That was in the latter part of June and when she arrived on campus last fall she was ready to run."
Boy, you can say that again.
Williams went from being a so-so middle distance runner with so-so times last year into one of the best Milers in the country this winter - literally, in the snap of a finger. Cleary has had a bunch of national-class Milers during his 20-plus years coaching the Mountaineers, but he's never had one blow up quite the way Williams has.
"For someone who was that unknown to have it happen so quickly is a big first for us," Cleary admitted.
"I've never run a Mile before in my life and I've been training for it, I guess, since the winter started and I was really excited to try it out and see how I would do and how fast my time would be," Williams said. "I was trying to run a fast time, sub-4:40 at least, so I can be at the national meet. Everything just went together."
Continue reading at: wvusports.com