Why Your First Mile Is The Most Important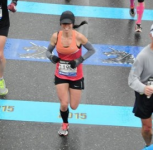 June 06, 2015
The ease of running and the effortless breathing will come later. Be patient, go slow and your body will thank you later in the run.
By Michele Gonzalez, NYC Running Mama
For years, I thought that the most important Mile of each run and race was the last one. That's the true sign of how the run went, right? If you finish fast and strong – and most importantly, feeling good – it's likely you will put that effort into the "good run" category, regardless of how much of the run went well up until that point. But if you are hurting, slowing down or are counting the seconds until the run is over, it's likely going to be a run you soon hope to forget.
It's easy to judge an entire run by that last Mile. But I'd argue that it's not the most important Mile.
These days, I put a whole lot more focus and effort into the first Mile. Run that first Mile too fast (which is SO easy to do, especially in a race environment) and the rest of the run could end up being pure torture.
For everyday training runs, that first Mile is my warmup. I aim for it to be my slowest Mile of the day. It's a Mile where I let my joints shake out any lingering aches or stiffness, where my heart gets alerted that it's about to do some work and where I give my body the time it needs to get adequately warmed up.
Continue reading at: womensrunning.competitor.com