Who are Essex's nine sub-4 minute Milers?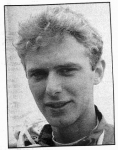 May 23, 2014
Southend AC stalwart Andy Green was the first sub-4 Essex man
By David Staines for Basildon Recorder
THIS month has seen the 60th anniversary of Roger Bannister becoming the first man to break the 4-minute barrier – a feat that has since been achieved by 189 runners from this country. Nine of those have come from Essex with three from the south of the county. Essex AAA chairman DAVID STAINES looks back on our own magic Milers.
THE first Essex man to break the 4-minute Mile barrier was Southend AC stalwart Andy Green, who ran his first sub-4 minute Mile while still a student in his native Lancashire.
As a 19-year-old he was the youngest 4-minute Miler at that time.
After moving to south Essex with his wife Mary, an Olympic 400m runner, he improved his time to 3m 57.74. In his early days in Essex he ran with the now defunct Hadleigh Olympiades and then Southend AC. Since then he and Mary have been a prominent part of the Southend AC set up.
Continue reading at: www.basildonrecorder.co.uk