Wheating hopes win at Portland Track Festival begins a return to form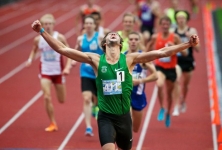 June 17, 2014
"I was very naïve four years ago. I didn't know what I was doing. Now it's like I know what I'm capable of, I know what I can do and I want to show everybody."
By Aaron Kasinitz, The Oregonian
As Andrew Wheating crossed the finish line on the track at Lewis and Clark College on Sunday night, he spread his arms wide and flashed an ear-to-ear grin. The former Oregon All-American then unleashed a resounding a fist pump to celebrate his winning time of 3 minutes, 38 seconds in the 1500 meters at the Portland Track Festival.
Wheating, a two-time Olympian, has won more important races than the one he ran Sunday. He's posted better times, too. But after dealing with various injuries the past few years, Wheating wasn't going to hide his pleasure after Sunday's solid performance in his first race of the 2014 season.
"I'm back, baby," Wheating screamed to a scrum of media minutes after his victory. "I've been waiting three freaking years to say that."
Continue reading at: www.oregonlive.com