What to Expect When You're Expecting While Training for the Olympics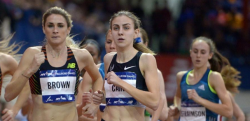 October 08, 2015
Sarah said that she always had pictured herself having children, but not until after retiring from competitive track & field.
By Mary Pilon, Vice Sports
In July, 28-year-old Sarah Brown was coming down the stretch of the 1500 meters Diamond League race in Monaco, and she knew something was wrong.
"I was battling for last place," Brown said. "I remember thinking, 'I don't care what place I get. I just want to cross the finish line and stop. I love racing and the fact that my mind got to that place, the pain, it just felt like my legs were made of sand and that there was no oxygen running in my body."
Her typically strong finishing kick was nowhere to be found, and she finished in last place, 4:09.17.
Brown had recently hit personal records in both the 800 meters and the 1500 meters. Her 2015 season was supposed to be a smooth ascent toward a bid for an Olympic berth to the 2016 Summer Games in Rio. But a month before Monaco, at the USA Track & Field Outdoor Championships in Eugene, Oregon, Brown had a series of headaches, which she had dismissed as a head cold, perhaps due to anxiety. There, she had finished 6th, running 4:14.52.
Continue reading at: sports.vice.com