Two-time Olympic medalist Nick Willis looks ahead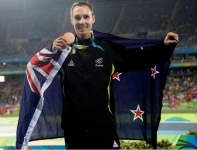 January 08, 2017
"I'm going to set goals, but the day my body or my mind decides that it's done, I'm able to walk away with my head held high."
By Nikki MacDonald, STUFF
"Good Morning," the runner says cheerily to the woman trailing two fluffy pedigrees. "What's good about it?" the dog walker challenges. She studies him more closely. He's ditched his cap, but she can't quite place him – those intense eyes and close-cropped hair.
"I know your face," she ventures. "You jog a lot."
Nick Willis smiles but doesn't identify himself. Even back home in Lower Hutt, only months after making New Zealand running history by becoming the only Kiwi to stand on the 1500m podium at two Olympics, he can pass unrecognised. After all, he's just the guy who rekindled New Zealand's legendary middle distance success after a 30-year hiatus.
Having taken 10 weeks off after his surprise bronze medal at the Rio Olympics, Michigan-based Willis is back in New Zealand for three months recharging, catching up with family and training. At 33, he was the oldest ever medalist in the marquee 1500m metric Mile event, with its gruelling combination of speed, strength and strategy. But he's not done yet. He's already lining up the 2020 Tokyo Olympics. How does he rate his chances of getting there?
"I'd say 100 per cent," he says without hesitation.
Continue reading at: stuff.co.nz