Todd Straka's Pearl Street Mile Race Recap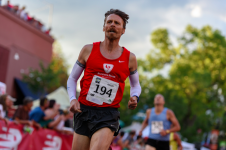 August 17, 2015
This is one of the best things about the Pearl Street Mile, watching friends and family run either in the kids race, open waves or elite waves.
By Todd Straka, Boulder Runner
The Pearl Street Mile is easily the best summer race in Boulder and dare I say Colorado. I fell in love with the race about 10 years ago as it was the first Mile I ever raced. I didn't run in high school or college so I had no past experiences to compare to. Sure the Bolder Boulder is equal in the excitement of the beginning of the race, but it doesn't parallel the power and speed of the start of the Pearl Street Mile that immediately takes a quick right turn from 14th onto Spruce street with everyone literally running as fast as they can. That energy, unequalled in any other race, continues down the East End of Pearl Street before making your fifth turn and the long grinding uphill that leads back up to the the Boulder Theatre where hundreds of people enthusiastically wait at the corner and along the finishing stretch, cheering and yelling at you the entire way.
How hard can I push for 2 minutes? Turn off the brain and just go with the flow. That's really the crux of it at this point. I remember chatting with 1500m and Mile specialist Jenny Simpson last year about what she liked about the Mile. Her response included how focused and quick the race unfolds. If you are thinking about the break then you are too late, you just have to be ready to go with it.
Continue reading at: 1boulderrunning.blogspot.com