Three Preps - Hunter, Slagowski, Tamagno - to Compete in Mile races at 2016 Prefontaine Classic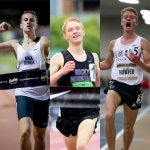 May 24, 2016
"Our rule of thumb is, we don't consider any prep who isn't capable of running 4 minutes." - Tom Jordan, meet director
By Doug Binder, DyeStat
Prefontaine Classic meet director Tom Jordan has always had a soft spot for high school Milers on the cusp of glory and eager to take on the the sport's ultimate test.

Fifteen years ago, Alan Webb of South Lakes VA got a chance to run in the Bowerman Mile against the world's best and delivered one of the touchstone moments in the history of high school track and field -- and the Prefontaine Classic.

"That particular event is my favorite of every event I've seen in my 33 years as the meet director," Jordan said.

In 2016, two high school boys have broken four minutes for the Mile and a third -- Austin Tamagno -- is on the verge of becoming the 10th all-time.

This weekend at Hayward Field in Eugene, Andrew Hunter of Loudoun Valley VA is going to get the same opportunity that Webb had -- to run in the Bowerman Mile against an Olympic final caliber field.

A couple of hours earlier, in a secondary Mile called the National Mile, Michael Slagowski of Rocky Mountain ID and Austin Tamagno of Brea Olinda CA will get a chance to go against a high quality group of pros that includes some of the top Milers in the country, including Olympians Leo Manzano and Andrew Wheating.
Continue reading at: dyestat.com