Thompson, Neeley Win Fast Track Mile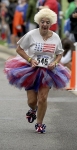 July 05, 2016
Terre Haute Fourth of July tradition draws 350-plus runners under cool misty conditions for 35th edition.
By Craig Pearson, Tribune-Star
According to the website, BringBacktheMile.com, the Mile run is as American as baseball, apple pie and the Fourth of July.
Mile road races — an Independence Day Terre Haute tradition since 1982 — have more than doubled in popularity in the 21st century.
More than 350 competitors were treated with a cool mist as they raced down Brown Avenue on Monday morning. Some battled their fellow age groupers, some for middle school pride and many looking to beat their previous best in the the annual Fast Track Mile.
Bobby Thompson was the fastest overall, using a strong kick to surge past defending men's champion Peter Davis for a time of 4 minutes, 32 seconds. The fastest woman was Brittany Neeley, an Indiana State University Miler, who defeated defending champion Cassie Busch with a time of 5:12.6.
Thompson is a former NCAA Division III qualifier in the 800 meters and the 24-year-old is still pursuing a career on the track. He and Davis, who runs at Pomona College in Claremont, California, are both coming off competitive track seasons in the spring.
Continue reading at: www.tribstar.com