The Photo that Captured the First Sub-4 Minute Mile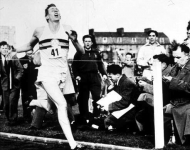 March 09, 2018
Beyond the significance of Bannister's triumph, this was one of the very first action photographs to record the climactic moment of a major sporting event.
By David Davis, Deadspin.com
Sir Roger Bannister died over the weekend at the age of 88 and, as to be expected, the glowing obituaries focused on his epochal Mile of May 6, 1954, when he shattered the 4 minute barrier on Oxford University's Iffley Road track.
In this day and age, when Usain Bolt goes 9.58 for the 100 meters and elite marathoners appear poised to slip under the 2 hour barrier, Bannister's achievement seems quaint, a relic from when the Olympics were an all-amateur affair and PEDs were not yet part of the vernacular.
But it's worth remembering that, at the time, many experts took for granted that the 4 minute Mile was physically impossible. The world record was 4:01.4, set in 1945 by Sweden's Gunder Hägg.
"Most people considered running four laps of the track in 4 minutes to be beyond the limit of human speed," wrote Neal Bascomb in The Perfect Mile, his excellent account of Bannister's quest. "It was foolhardy and possibly dangerous to attempt. Some thought that rather than a lifetime of glory, honor, and fortune, a hearse would be waiting for the first person to accomplish the feat."
Emerging from the horrors of Nazism and atomic warfare, Bannister's breakthrough came to symbolize something more than just another athletic milestone. Never mind that he utilized two rabbits (Chris Chataway and Chris Brasher) to pace him through the early stages of the race. Never mind that two other Milers, American Wes Santee and Australian John Landy, were also approaching the coveted first sub-4. Like the inaugural ascent of Mt. Everest just a year previous, Bannister's 3:59.4 Mile provided a much-needed dose of optimism and pride for a world attempting to find its post-war footing. He was "the runner who redefined the possible," as Roger Robinson wrote in Runner's World. (The accomplishment has held up, too: more than three times as many people have since summited Everest as have run a 4 minute Mile.)
Continue reading at: deadspin.com