TF365: Nicole Schappert Eyes Healthy Season Ahead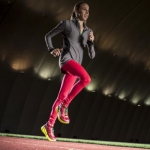 April 21, 2014
NJ*NY TC star athlete set to compete in the USA 1 Mile Road Championships
By Scott Bush, RunnerSpace.com
In 2012, former Villanova All-American Nicole Schappert was on a roll. After finishing tenth in the Olympic Trials 1500m final, the Florida native headed to Europe and ran a couple big PRs of 2:02.86 for 800m and 4:06.87 for 1500m. Her 1500m mark ranked her U.S. #8 in the event for the year. At this point, the arrow was pointed upward for Schappert and her blossoming pro career.
2013 was a different story. Despite qualifying for the World University Games, where she finished eighth overall in the 1500m, Schappert dealt with injury for much of the year. That hardship, along with tasting some success, has left the current NJ*NY Track Club member with high hopes for the 2014 season. Schappert got a good start to her season indoors, running to a 4:32.37 Mile performance and a 9:00.84 eighth place 3000m finish at the Millrose Games.
The newly HOKA ONE ONE sponsored Schappert resumes her season Tuesday at the USA 1 Mile Road Championships, hosted by the Grand Blue Mile. We caught up with the 27-year old recently, chatting about her current fitness, dealing with injury and so much more.

Scott Bush (SB): You've had a solid start to your 2014 racing season. How did you feel about your indoor campaign and what are you most excited about with outdoors starting to ramp up?
Nicole Schappert (NS): My indoor campaign was decent. I only raced twice and ran a strong Mile and strong 3K, but I was still running a bit out of shape. My fall training was great, but my plantar flared up around Christmas. So I took all of January off and cross trained which meant my indoor races were a little bit more painful than I would have liked. So they were good efforts off of limited training. I ran them mostly off strength, and still PRd in the indoor Mile and 3000. So based on that, I'm excited for outdoor season now that I have more training in!
SB: The USA 1 Mile Roads Championships are this Tuesday. With such a strong field, what's it going to take to pull off the win?
NS: To be honest, I haven't even looked at the field yet. But I assume based on your question that it's going to be a strong field! That makes it fun. I LOVE road Miles. There's more room to run so you don't have to worry about the strategy as much or getting boxed in. I think it will take a really strong last 200 to pull off the win.
Continue reading at: www.runnerspace.com