Target on His Back, O'Hare Ready for NCAA Title Defense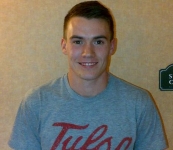 March 08, 2013
By David Monti, Race Results Weekly
FAYETTEVILLE, Ark.-- Sitting in the lobby of his hotel about 20 miles north of here in Bentonville, Chris O'Hare is the picture of composure. Sitting in an overstuffed chair wearing loose-fitting shorts, a "Tulsa" T-shirt, and Nike trainers (untied), he rises to greet a reporter with a relaxed smile and a firm handshake. Any tension about defending his NCAA Indoor Championships Mile title here beginning tomorrow at the University of Arkansas isn't evident, but he projects a sense of purpose.
"My goal is the same as everyone else's goal, which is to come here and take the win away," said the 22-year-old Scotsman from Edinburgh in an exclusive interview with Race Results Weekly. "That's really the main goal, all season, every race. This one, obviously, has the added pressure of being national championships, and then you've got the added pressure of being the record holder and what not. But you know? Pressure's a great thing."
O'Hare was a surprise winner in last year's meet held at moderately high altitude in Nampa, Idaho, winning in a pedestrian 4:01.66 in a close sprint finish over Rich Peters of Boston University --another Briton-- and Miles Batty of BYU, then the NCAA indoor Mile record holder. But a year later it is O'Hare who is the fastest-ever NCAA man over the one mile distance (indoors) with his sparkling 3:52.98 fourth place finish at the Millrose Games last month in New York.
Continue reading at: runnersweb.com