Sub-16:00 4xMile Possible at Penn Relays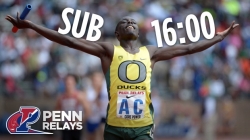 April 23, 2015
Oregon, Stanford and Villanova set to battle in the College Men's 4xMile Championship of America Invitational on Saturday
By Gordon Mack, FloTrack
We WILL See a Sub-16:00 4xMile! Here's why…
One word. Villanova.

Let's back-track a bit and dive deep into why Villanova is the reason for a sub-16:00 performance.

1) THE FIELD
Oregon, Stanford, Villanova, Adams State, Oklahoma, Penn State, Georgetown, Texas, Michigan, Wisconsin, Columbia, Penn, Indiana, Dartmouth, Cornell, Princeton, Buffalo, and Yale.

First thing is first, we have to remove Adams State from the field.
The Division II powerhouse tweeted yesterday that they, unfortunately, will not be attending the Relays, however if they did they would be a legit threat with four superstars in Oliver Aitchison (3:40.77), Kevin Batt (3:59.53), Matt Daniels (3:59.89), and Tabor Stevens (4:00.90). I guess we will have to wait to see them in action at Payton Jordan.
Continue reading at: www.flotrack.org