Strum, Haiss Win State Street Mile Titles on Record Setting Day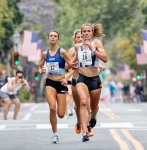 June 02, 2019
Women's Elite course record and Dog Mile world record shattered; 6 men clock sub-4 minutes at the "fastest Mile in the west"; 20th edition draws record 1,500 entrants; Backwards 1K Walk Guinness World Record attempt attracts 1,000-plus participants
By Ryan Lamppa, Mile wire
SANTA BARBARA, Calif. – On an overcast Sunday morning in downtown Santa Barbara, Weston Strum of San Francisco and Therese Haiss of San Diego earned State Street Mile titles in thrilling down-to-the-wire finishes, clocking 3 minutes, 53 seconds and 4:19, respectively, on the gradual downhill point-to-point course. At the 20th running, Haiss broke the women's course record by three seconds.
"With an event record 1,500 entrants, numerous course records and one Dog Mile world record, it was wonderful to see our community support and enjoy our 20th anniversary edition," said race director Megan Rheinschild. "On this special day, we celebrate everybody that came out from kids, adults and dogs to family & friends and backward walkers as well as all our sponsors, our volunteers and city officials."


Photo credit: Fritz Olenberger
In the men's HOKA ONE ONE Elite Mile, a large pack hit the halfway mark in 1:57, and with a quarter mile remaining, Strum, George Gleason, Tim Gorman and 2017 race champion Darius Terry had started to pull away. In the final meters, Gleason and Strum battled fiercely to the line with Strum just edging Gleason, both timed in 3:53.
"Gleason made a hard surge around 300 meters out and I told myself to 'go now or he's gonna win'. At 50 meters, I got on his shoulder and just kicked hard to the finish line. This is definitely one of my top five best races ever," said Strum, 27, a Loyola Marymount graduate who has returned to racing after a 3-year hiatus.
Overall, 6 men went under the coveted sub-4 minute standard.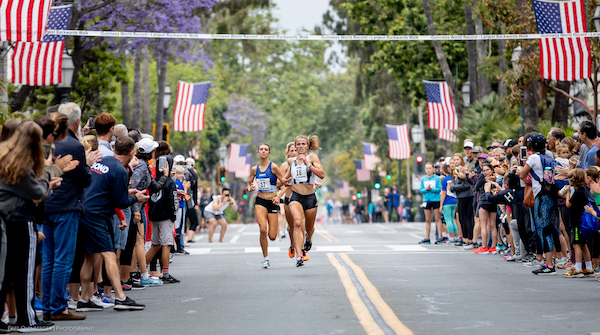 Photo credit: Fritz Olenberger
Like the men, the women's HOKA ONE ONE Elite race was also an exciting finish with the trio of Haiss, Raquel Lambdin and former UCSB standout Jenna Hinkle all running hard for the win. Haiss had the better kick to just edge Hinkle, both under the course record, timed in 4:19 and 4:21. Haiss' teammate Lambdin finished third in 4:22.
"Oh, man, I wanted that $10,000 HOKA Super Bonus money," said a smiling Haiss, 23, who competes for The Mission Athletics Club and did earn the $1000 course record bonus. "We, my teammate Raquel and Hinkle, hit some crazy fast splits so the bonus money was possible, and I was able to carry that hard pace and go for the win."
Haiss' 4:19 is the fastest recorded women's Mile run on California soil, beating Mary Decker's 4:20.5 indoors from 1982 in San Diego, and an annual race record of 5 women went sub-4:30.
Strum and Haiss also pocketed $1000 as Elite Mile champions.
In the Elite Masters-only races (40 & older), Neville Davey, 44, Palo Alto, Calif. ran 4:14 just missing the men's course record, while Nancy Thomas, 49, from San Francisco won the women's race for the third time in five years, (also 2015-16), clocking 5:00.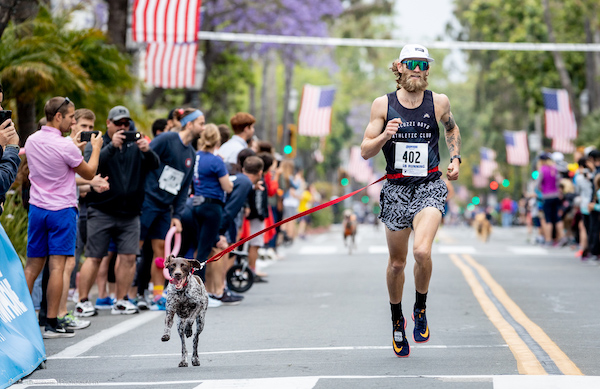 Photo credit: Fritz Olenberger
At the spectator-favorite Dog Mile, the unofficial world championship, Dan Wehunt & Odessa (German Shorthaired Pointer) of Bozeman, Montana shattered the world record by 6 seconds with their incredible 4:07 clocking. The previous record was 4:13 by Brian Duff & Kaydom (Weimaraner) at the 2016 event; the pair finished second in 4:16 this year. The female human-dog champions were Nancy Thomas, Elite Masters champion, and Rab (Yellow Lab) in 5:25. For both canines, it was their first Dog Mile race.
Three Age Division race records were set by:
20-29
Brennan Holman, 25, Rocklin, CA, 4:13, tie
50-59
Sue McDonald, 56, Santa Barbara, CA, 5:35
70 & Over
Eileen McMillen, 71, Santa Ynez, CA, 8:14
In addition, after the Dog Mile, a special event was held, the Backwards 1K Walk Guinness World Record attempt that attracted 1,000-plus participants with final record verification forthcoming.
Race day started with eight age group categories (10 & under, 11-14, 15-19, 20-29, 30-39, 40-49, 50-59, 60-plus) followed by the YMCA Family Mile, Masters Elite Mile & HOKA ONE ONE Elite Miles and capped off with the Dog Mile.
The guaranteed Elite Open prize purse totaled $5000, going 4-deep per gender ($1000, $750, $500 and $250) plus a $1000 Open course record bonus (3:49 men / 4:22 women) and $100 Masters-only course record bonus (4:12 men / 4:57 women).
In addition, the event offered a 20th Anniversary $10,000 Super Bonus presented by HOKA ONE ONE & InTouch Health for the first elite finisher, man or woman, faster than the following standards: 3:47.00 (men) and 4:17.00 (women).
In the smile-inducing Family Fun Mile, all children finishers also received a medal.
Like past editions, the Santa Barbara District Attorney's Victim-Witness Assistance Program's Crime Victim Emergency Fund will receive all event proceeds.
The State Street Mile is also a Santa Barbara Athletic Association Grand Prix and Junior Grand Prix event as well as a Bring Back the Mile Featured Event, showcasing the best Mile events in America and throughout the year.
20th State Street Mile
Santa Barbara, CA, Sunday, June 2, 2019
MEN
1) Weston Strum (CA), 3:53, $1000
2) George Gleason (CA), 3:53, $750
3) Tim Gorman (CA), 3:55, $500
4) Darius Terry (CA), 3:55, $250
5) Joshua Sealand (CA), 3:55
6) Matt Palmer (OR), 3:59
7) Scott Bauhs (CA), 4:00
8) Brendon Fish (CA), 4:00
9) Evan Bates, 18, (CA), 4:01
10) Chris Frias (CA), 4:02
WOMEN
1) Therese Haiss (CA), 4:19, $2000*
2) Jenna Hinkle (CA), 4:21, $750
3) Raquel Lambdin (CA), 4:22, $500
4) Grace Barnett (CA), 4:25, $250
5) Maddy Berkson (CA), 4:28
6) Maya Weigel (CA), 4:33
7) Chelsey Albertson (CA), 4:34
8) Courtney Moore (CA), 4:36
9) Selina Sekulic (UT), 4:38
10) Tori Tsolis (CA), 4:39
* includes $1000 course record bonus (previous record, 4:22, Tori Tsolis, 2017)
MASTERS-ONLY MEN (40 & older)
1) Neville Davey, 43, (IRL / CA), 4:14
2) David White, 54, (CA), 4:37
3) Dan Lesser, 42, (CA), 4:38
MASTERS-ONLY WOMEN (40 & older)
1) Nancy Thomas, 49, (CA), 5:00
2) Caroline Boller, 44, (CA), 5:05
3) Jenn Patenge, 46, (AZ), 5:19
For complete results and more, go to: sbmile.com